PLC desktop extruder skru tunggal kecil
Desktop kecil extruder skru tunggal eqiuipped dengan sistem kawalan PLC, boleh menetapkan dan memantau semua parameter.
The small plsatic single screw extruder is suitable for polymer processing molding, especially for a small amount of samples for scientific research and development, to simulate the plastic processing of various aspects of continuous and discontinuous process, especially suitable for the teaching and research and development.
Plastik desktop skru extruder adalah kecil dan mudah, ia adalah pilihan yang terbaik untuk ujian makmal dan pengeluaran kecil-kecilan.
Parameter:
| | |
| --- | --- |
| Screw diameter | 20 |
| Length diameter ratio | 1:25 |
| Screw speed | 0 - 90 rpm frequency control |
| Power supply | 3 ∮, 50 Hz, 5 lines |
spesifikasi:
1. skru / tong bahan: M ade 38CrMoAl kromium-molibdenum keluli.
2. Pemanas zon: Empat pemanas mika adalah dalam bidang mengecas setong, sebuah pemanas berada dalam kawasan handpiece. Setiap kawasan mempunyai kipas penyejuk tembaga yang dilindungi perisai keselamatan udara.
3. Kemudahan Penyejukan: Tiga kumpulan peminat pelbagai sayap untuk menyejukkan udara secara senyap-senyap dan kuat.
4. Sistem Driving: Precision pengurangan gear motor dan pengedaran putaran nyahpecutan integrasi.
Sistem 5.Electric kawalan: PLC boleh program warna skrin sentuh, sistem operasi antara muka manusia-mesin.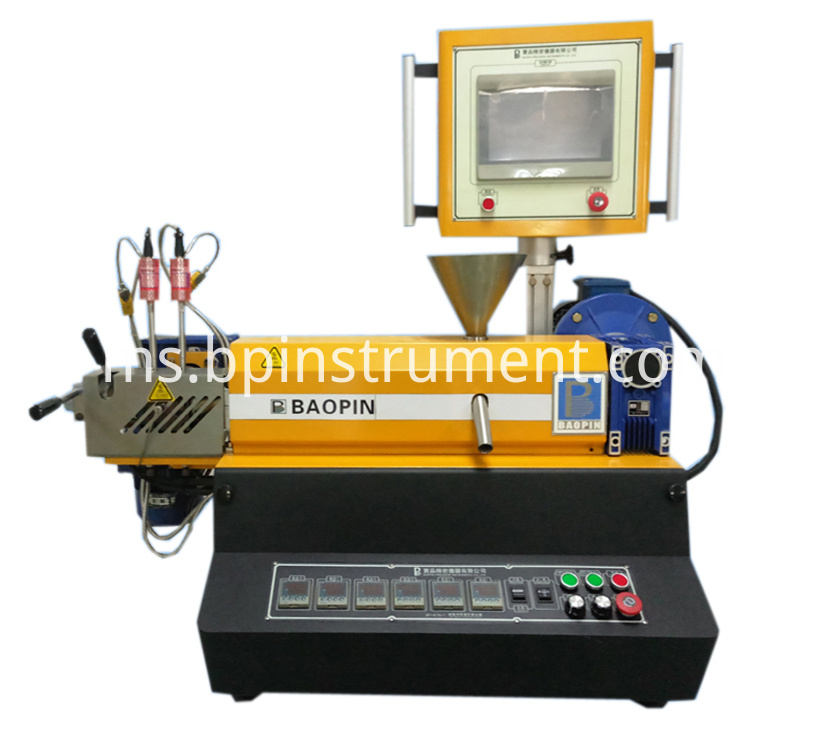 Kategori produk : Siri Lab Extruder